Have you ever thought about where to eat the most delicious food for the New Year? What are the places in Belgrade that offer the best possible catering for New Year's Eve, with an offer that will knock all guests off their feet?
Across the Serbian capital, there are a large number of top restaurants that are almost competing in it, which will boast a richer menu and tastier specialties for the New Year's Eve, which will never leave you indifferent.
Whether it is grilled dishes, the most delicious local or fish specialties, international cuisine, or something completely different, in Belgrade restaurants you can always find interesting combinations of the most diverse dishes, which contribute to the overall impression of a New Year's Eve.
If you have been wondering where to eat the best and most delicious food for the New Year, here are the restaurants where you can experience the best gastronomic pleasure.
Topčiderac – catering at the highest level
One of the most famous and glamorous Belgrade restaurants, which gained its fame thanks to its phenomenal international cuisine and first-class service, is the Topčiderac restaurant. It is one of the most beautiful restaurants in the Serbian capital, surrounded by beautiful nature, which organizes a New Year's Eve party every year.
In addition to the phenomenal music and friendly staff, what attracts many people to this restaurant is the great food for the New Year, which has almost no competition in the city. The menu includes the best New Year's food of domestic and international cuisine, of the most diverse flavors, and the highest quality wines, as well as a large number of alcoholic beverages.
Among the main dishes, the following stand out: smoked salmon served on a salad, lamb under a sacha, roast lamb, lamb under a sacha, roast beef on a base of Russian and French salad, veal under a sacha, ironed pork, ironed pork, paprika, etc.
For all lovers of fish specialties, there are: tuna in pepper, grilled squid and octopus, breaded crab, salmon on a zucchini base, sea bass, cod in Mediterranean herbs, etc. Gourmets will be able to enjoy the following dishes: homemade sausage, stuffed drumstick, chicken fillet, donuts, kebabs, smoked veshalitsa, etc.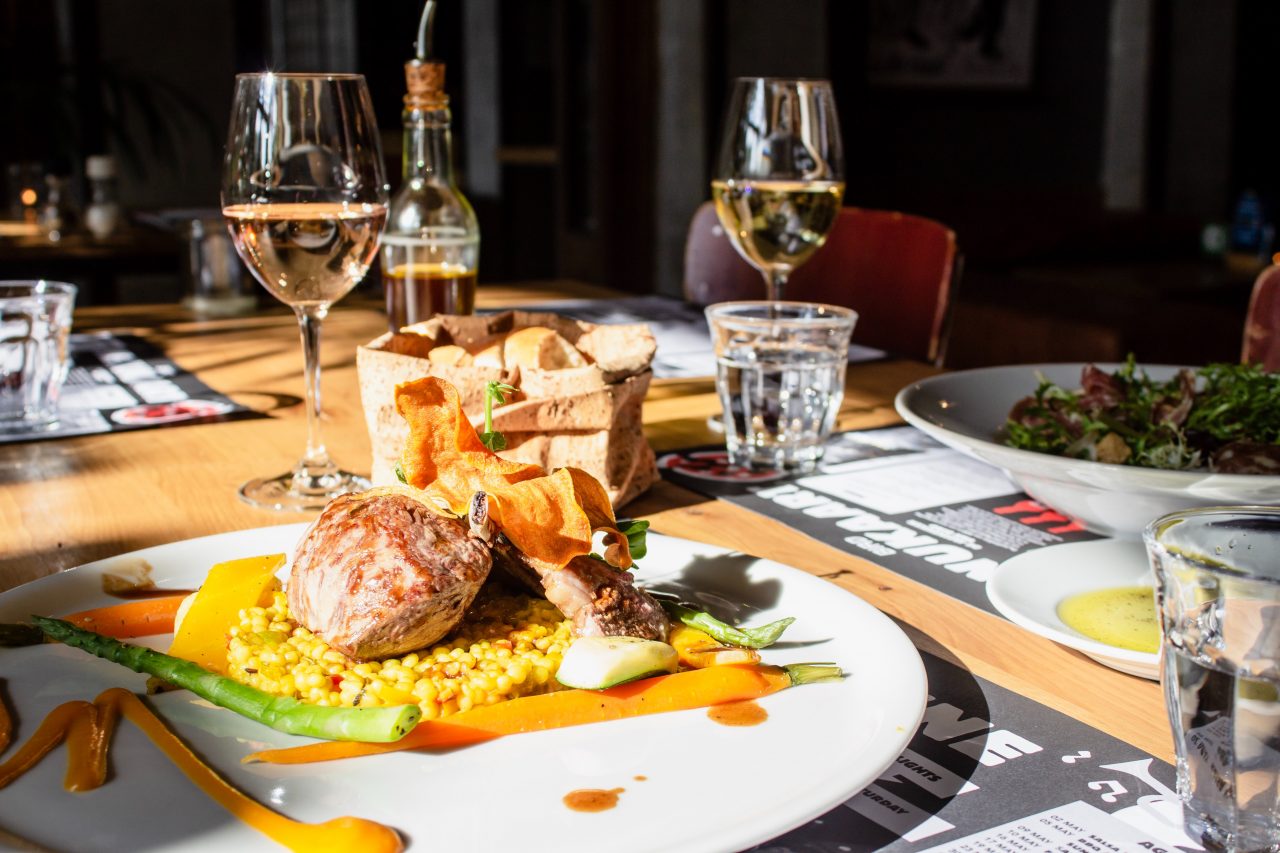 Hotel Hyatt – luxurious ambience and great food
The famous Hyatt Hotel is one of the most popular places in Belgrade for the Welcome. He is synonymous with a great party that will last until the early morning hours, but also for the incredible pleasure that will provide them with top-quality drinks and phenomenal food for the New Year.
All those who want to spend an unforgettable New Year's Eve and enjoy the best dishes from various cuisines of the world, then Hyatt is the right place for them. In the hall of this eminent hotel, they will be able to relax to the maximum for the reception and enjoy trying out phenomenal dishes.
The menu includes a rich selection of salads, cold dishes such as: smoked Brie duck, spinach rolls, sun-dried tomatoes, roast beef and onion compote, then hot dishes which include: traditional veal soup, grilled drumstick in cream sauce, Arabiata pasta, mixed barbecue, roasted catfish with tomatoes, stewed seasonal vegetables, etc.
There is also a great dessert offer that includes: tiramisu, marinated fruit, panna cotta, white chocolate mousse, hot chocolate cake, sacher slices of apple …
Villa Jelena – a famous place with excellent cuisine
Villa Jelena is one of those beautiful, authentic places you fall in love with at first sight. Luxurious ambience, experienced staff, great location, great food … are just some of the reasons why this villa is among the most popular places for New Year's Eve.
Apart from the phenomenal music program, Villa Jelena has one of the best menus. The food for the New Year is so varied and delicious, that hardly any guest can resist. We offer main dishes such as: rolled chicken, leprechaun with young cheese, Leskovac shaker, sarma, fried chicken with sesame, pie with meat, Karadjordje steak, mixed barbecue, etc.
From dessert, guests can be served with: crepe, small cakes, baklava, cheesecake and various fruits.