This blog post is part of the "Must read" series for people visiting Belgrade. Find all other blog posts in the "Essential" category HERE. 
Serbian currency is dinar (Serbian dinar), officially "RSD" but you will find written as "DIN" as well. It's stable for the past couple of years at around 120 RSD for 1 EUR and 100 RSD for 1 USD.
You can check the current rate at the official National bank of Serbia HERE.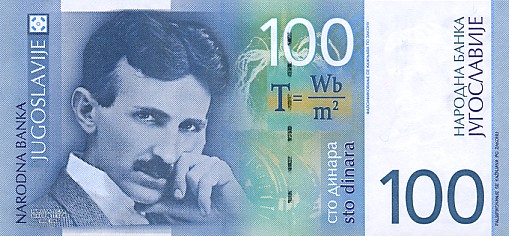 Coins & paper currency
Currently, there are:
COINS:
1 RSD
2 RSD
5 RSD
10 RSD
20 RSD
PAPER:
10 RSD
20 RSD
50 RSD
100 RSD
200 RSD
500 RSD
1000 RSD
2000 RSD
5000 RSD
You will usually use the bold ones – 2000 RSD and 5000 RSD are not so common, but are used. Don't try to pay anything less then 500 with 2000 bill or less than 2000-3000 RSD with 5000 as they will probably not have enough to give you the change.
In everyday use, you will most likely give 50, 100, 200, 500 and 1000 RSD. Since they are not that valuable, you will not need coins, but you will get them as a change (or pay for something if it's really cheap).
We don't use coins for anything, except in Lidl for the cart, so you really don't have to carry it around.
Banks & exchange offices
Unless there's a situation where you don't have any other option, do not exchange your money in the bank. You will get a lower rate then you should. Not much lower, but depending on the amount of money you change, it can be from a couple of euros to a 10-20 EUR.
Go for the exchange office. Under Serbian law, the exchange offices cannot charge you anything for their services (commission) OR have a bad exchange rates that are not in line with National Bank of Serbia regulations. That doesn't mean that you cannot bump into one of those, but you probably will not. Extra layer of safety is the official sign of the Exchange office granted by the National Bank (pictured below) and certificate at the office.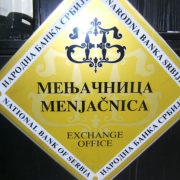 The exchange office is obligated to inform you, before the transaction, how much money will you get, and give you a receipt. If you think you got tricked, feel free to call the authorities.
Credit & debit cards
All the major credit cards are accepted in Belgrade. MasterCard & Maestro, Visa, our national Dina Card and American Express – though AMEX not that much.
By the time of writing this, local branch of Diners ran into some sort of problems so you cannot pay with Diners even though it's issued in another country, so keep that in mind.
Also, fast food joints, street vendors etc will not accept credit cards, so always have some cash for those situations. All the cafes, restaurants, shops, malls etc accept Visa and MasterCard, but it doesn't hurt to ask or check the sign at the door.