A souvenir is a memory from a trip, thanks to its authenticity and recognizability. When it comes to souvenirs of Serbia that provide tourists from other parts of the world with a broader picture of Serbia, they are usually craftsmen and handicrafts that we know little about, which is why we can often hear that our friends have a dilemma "which souvenir from Serbia to give dear a stranger? ".
Thanks to the rich history, we can and have a lot to offer our foreign guests. Recognizable carpets, brandy, wines, homemade cheese, ajvar …
This time, we decided to focus on domestic producers and their products, which are more than a perfect gift that you can take from Serbia.
His majesty – honey
Honey is one of the best natural products because it has numerous medicinal and nutritional properties, which make it an indispensable part of a healthy diet.
Honey has been used as a food since ancient times, people used it as a medicine, but it was also used for face and body care. Honey was spoken of as a "gift from heaven." Nectar and food of the gods are words that were used throughout the ancient world to describe. Not without reason.
However, the first data on the use of honey appear in Sumerian and Babylonian texts written in cuneiform. Honey is also mentioned in ancient texts such as the Indian Vedas, the Jewish Torah, the Bible, and the Koran. It is also known that the ancient Egyptians used honey in their diet, but also as an ingredient in embalming liquid. For a long time, honey was the only sweetener that was widely available to people before the mass production of sugar.
Honey is still very popular today and is considered one of the best and most powerful natural products. It has properties that make it an indispensable part of a healthy diet, and a winter without honey is simply unimaginable.
Honey has numerous healing properties. Honey, especially raw, unprocessed natural honey, is considered a superfood. These are just some of the reasons why you should use honey every day:
Improves immunity
Helps heal wounds and burns
It acts as a source of energy
Helps relieve cold and flu symptoms
If you want to make yourself and your loved ones happy, "buy health". Homemade honey MiliHoney, 100% natural honey, made from the hives of the agricultural farm Milić have numerous variations of this miraculous product, which will leave you speechless. This is truly an ideal gift for all occasions!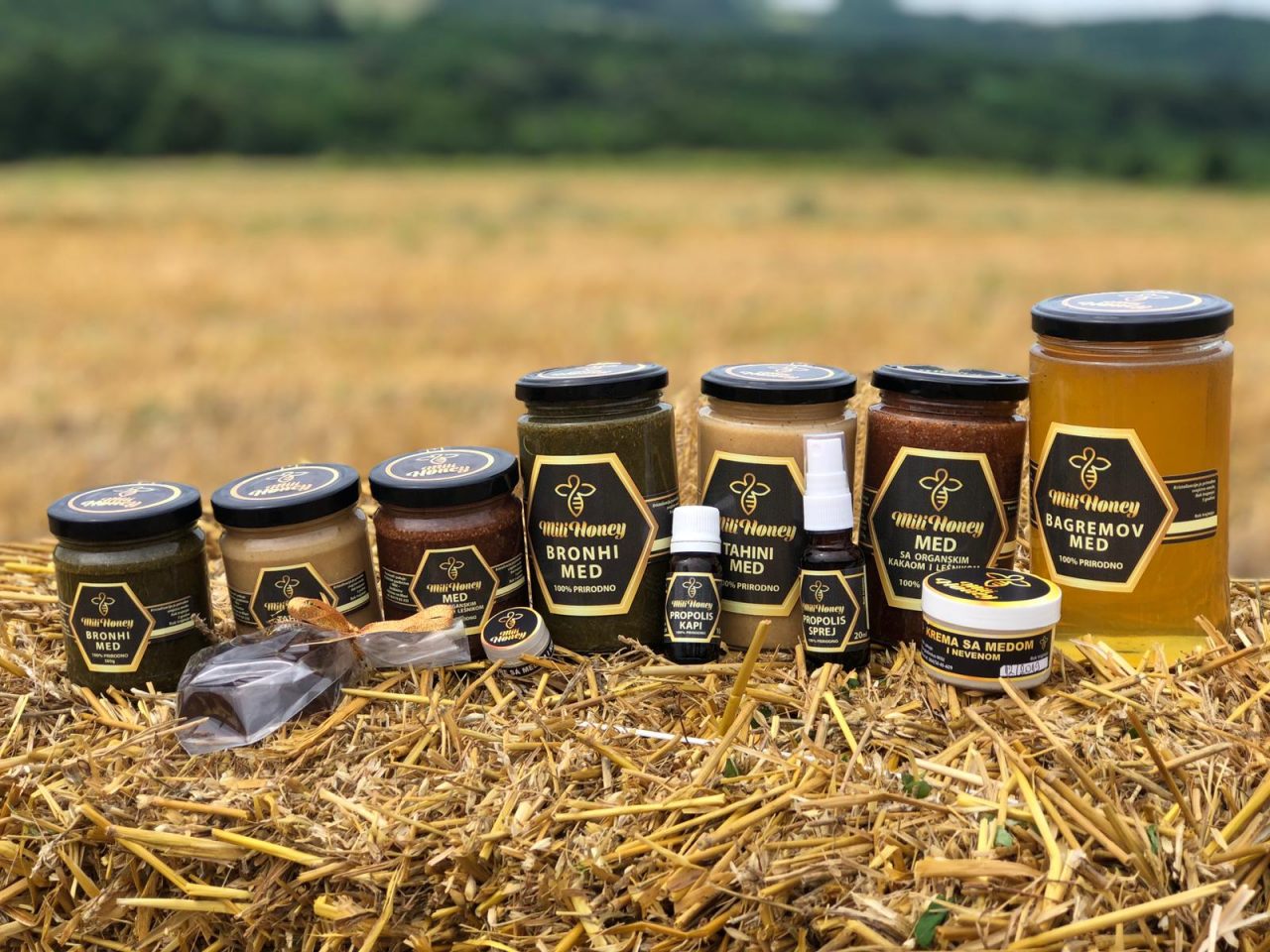 Homemade parmesan

If you are a gourmet, the ideal souvenir from Serbia will be the extra hard Charnock cheese. It is homemade parmesan, from this area.

Hard, fatty, aromatic, Dana Charnok cheese is a cow's cheese that strongly resembles a large family of hard cheeses with a grainy structure. It is made from cow's milk. The color of Dana Charnok cheese is straw yellow and uniform throughout the cross section. Intense, fine taste. This extra hard Dana Charnok cheese is about a year old. The reels are cut into triangles and packed in a vacuum whose weight is about 200g.
The taste of real parmesan is extraordinary, full and rich, filled with fruity notes with a slight spicy note at the end, and this is exactly what Dana Dana claims, Charnok. Real parmesan is characterized by its texture: the cheese dough is grainy, breaks and shoots into flakes towards the middle of the cheese. There is no difference here either when you compare Dana extra hard Charnok. You can find it at www.domacini.rs
Cosmetic products

In Serbia, there are several cosmetic brands that are guided by the words: natural, organic, unique. These are small productions made up of several enthusiasts and fans of quality ingredients and well-groomed skin and hair. Not many people know about them because they don't advertise pompously, they just do their job diligently.
Intimate, tucked away, with a lot of attention and love – in a word, very personal. They dedicate themselves 100% to each product they make, participating in every process from making the ingredients to sticking the label.
Jasna and Miroslav Stojanović started producing cold-pressed oils from fruit stones, and then they opened the first All Nut store. Today, these oils are the basis of every product: plum stone for dry skin, apricot for more mature skin and hair, and hazelnut for oily and combination skin.
The other ingredients are mostly cold-pressed oils from other manufacturers in Serbia, as well as large quantities of fantastic essential oils from the Balkans. The range consists of 36 products intended for facial, body and hair care. The small selected team does not follow the mainsteam, but has a philosophy of looking around the corner. They believe that every person and every job is special and different.
You can buy them: All nut Belgrade, Čumićevo sokače lok, 25.
Aren't these ideal, different souvenirs that will bring the spirit of Serbia into your house as well?