In front of the famous Hotel Moskva, back in 1860, as a symbol of the return of Prince Miloš Obrenović to the throne, the Terazije fountain was built, today one of the most famous symbols of Belgrad
It represents the work of sculptor Franco Laurent. It is made in the shape of a stone pillar, with a vase at the top and 6.35 meters high. It is built of limestone from Tasmajdan, and consists of three segments. On the second cubic segment, its facade is decorated with a lion's head in a circular medallion from which water flows, this decoration was also made in Tasmajdan limestone.
At the top of the obelisk it is decorated with relief decoration with plant motifs as well as Romanesque blind arcades. The fence of the fountain pool was made in the Gothic style with elements of a broken arch. All four sides of the obelisk bear the initials of Miloš Obrenović and the date of the beginning of construction and return to the throne.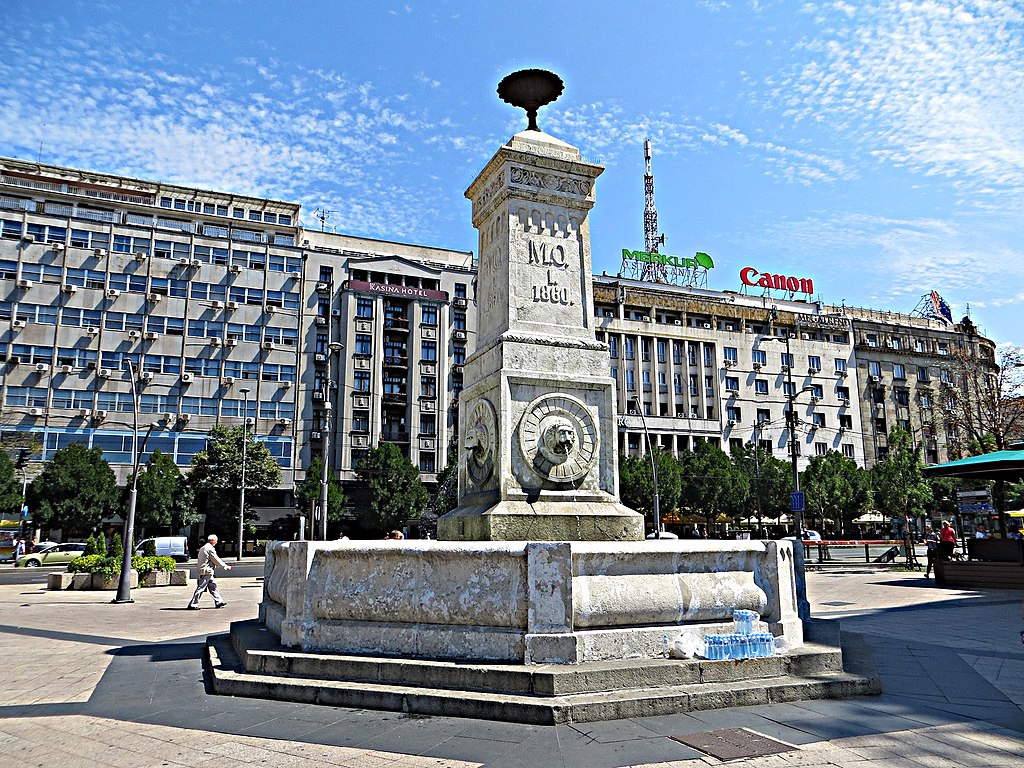 Since its construction, the Terazije fountain has stood on Terazije for almost half a century, but during the works on the regulation of Terazije, between 1911 and 1912 it was moved to the port of the church on Topčider, and from there it was returned, not to the same place, but very close. , on the plateau in front of the hotel "Moscow" where it is located today.
Its historical, artistic and urban values ​​are great, especially having in mind the fact that the whole street was named after the Terazije fountain. Before the construction of the Terazije fountain, this square was called Prestolonaslednikov trg, Kneza Milana Street, Kralja Milana Street, and only in 1940 was it named Terazije.