Cafes in Belgrade are probably one of the best "advertisements" of the Serbian capital. How could they not be, when it comes to the most creative catering interiors with a great offer of coffee, sweets and all those pleasures that make us happy to meet friends in places like this.
Tourists are delighted with cafes and pastry shops as an integral part of Serbian everyday life, and most Belgraders can at first recommend at least a few great places worth visiting.
Below you will get to know the places where you can drink great coffee, but also some cocktails, squeezed juice, beer … 🙂
Cafeteria Kralja Petra
The best cafes in Belgrade for coffee lovers are cafeterias. Fortunately, there are them at every step in Belgrade. The mornings of many Belgraders start with a cup of coffee. Coffee is one of the most widely consumed beverages in the world, but is it equally good everywhere?
In the "Cafeteria" in Kralja Petra Street, the crowds and the queue at the checkout can confirm that this is not true. On the contrary, it is difficult to find good coffee, which is not sour, but not too expensive. The "Cafeteria" chain exists in the whole of Belgrade, and the largest one is in the city center. The offer in this restaurant contains more than 15 different types of coffee delivered from various parts of the world – espresso from India and Brazil, Ethiopia, Kenya, Guatemala, Honduras, Cuba or Colombia.
Visitors who like coffee in slightly smaller quantities can also try decaffeinated coffee. You can always buy freshly ground coffee in the "Cafeteria", and you can choose whether you want to take home strong or weak. Here you can try whatever coffee you can think of, even XL cappuccino.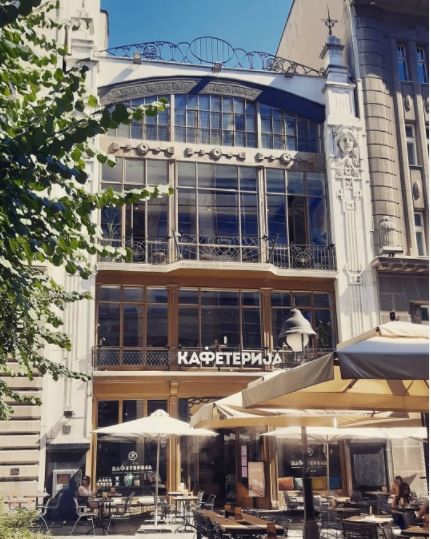 Cafeteria Šećer
The "Šećer" cafeteria is on the list of the best cafes in Belgrade. The cafeteria was opened in Zadarska Street, but due to great interest, it was also opened in Kneza Miloša Street. "Sugar" gained great sympathy because of the very creative menu – pink latte, cappuccino with sequins, pink hot chocolate, macha latte, ginger home tea, purpleccino, and even espresso decorated with flowers.
Lemonades of different tastes and homemade cakes will additionally beautify a cup of already unusual coffee.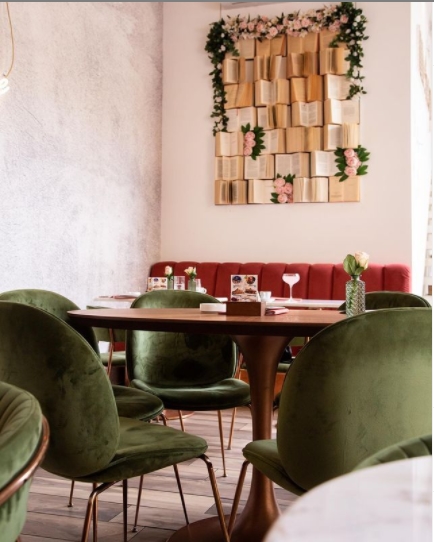 Villa Maska
The ambience of Villa Maska, located in Vracar in Rankelova street number 7, will certainly not leave you indifferent.
The originality of both the interior and the exterior is what makes it a unique cafe in Belgrade. On about 300 m2 you can indulge in the pleasure of an atmosphere that exudes exotics from the Far East, but also antique pieces of furniture.
The cafe is on two levels and has a beautiful garden, where you can enjoy your favorite drink or meal in the summer. The interior is such that at every step you can see very unusual and eye-catching pieces of furniture and all kinds of deacons, which you would also like in your home. What is very interesting and unusual is that, if you like some detail inside the cafe, it can immediately become yours, because most things are for sale.
The authenticity of this cafe is given by the well-known car in front of the entrance, lined with a grass carpet with flowers. A real attraction for anyone who walks down this street. And when you enter the Mask, you will feel as if you are in a real labyrinth.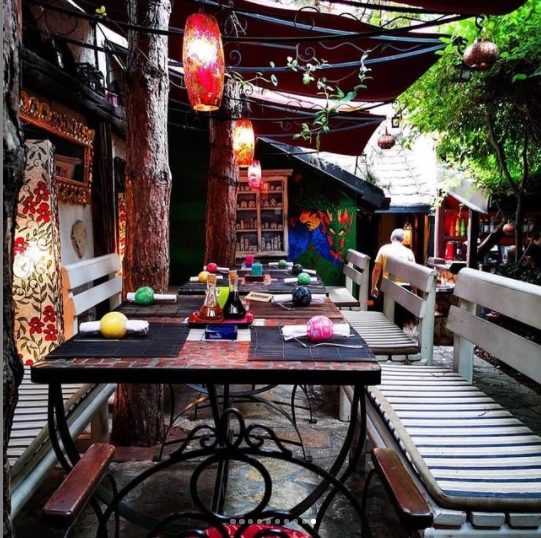 Jazz garden
In Karadjordjeva 43 is located the Jazz Garden, "a place whose interior is reminiscent of French apartments, and its spirit of some ancient, romantic years." With a beautiful view of the river and Branko's Bridge, enjoy the fantastic ambience of this cafe, with relaxing jazz music, which will surely take you back in time.
An ideal place where you can spend a wonderful afternoon with your loved one. Create new moments in the perfect and authentic ambience of the Jazz Garden.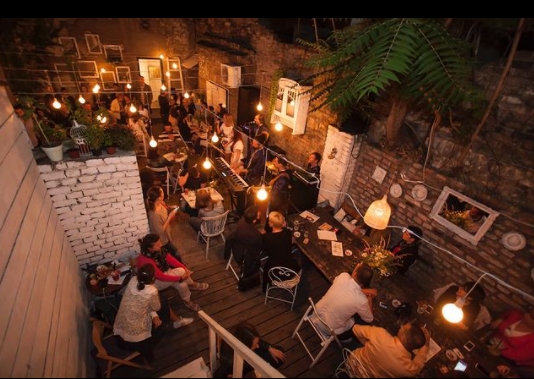 Dvorištance
At the address Cetinjska 15, among numerous cafes and clubs, there is also the famous Dvorištance.
A real anti-stress therapy, just designed with the intention of relaxing and enjoying a person. A real oasis of joy in the boiling hive of the city center. In the heart of the night and fun life, near Skadarlija, this cafe is located.
In the evening, this sweet and peaceful place becomes a club with great DJ sounds. Recognizable for its bright colors, relaxing atmosphere and adorable decorative details make it an ideal place for your afternoon coffee or evening cocktail.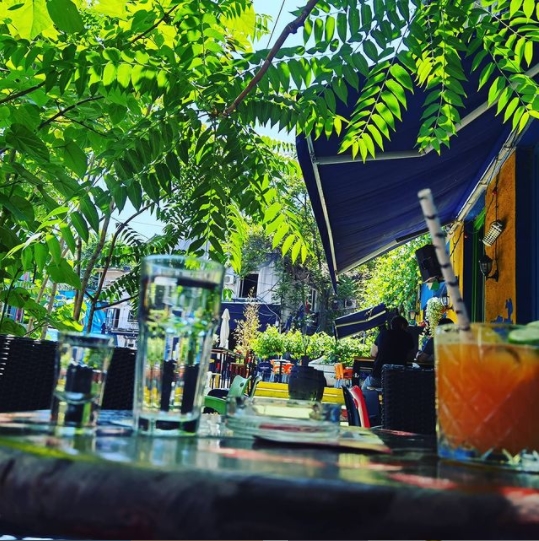 We hope that we have made it easier for you to find a place where you will be able to enjoy your visit to our capital.