This blog post is part of the "Must read" series for people visiting Belgrade. Find all other blog posts in the "Essential" category HERE. 
I'd say that this might be one of the confusing parts of visiting Serbia and Belgrade in this case. You see, we Serbians use Cyrillic or as we call it "ćirilica" and all the letters are called "azbuka". Looks something like this:

But, the difference from other nations and countries using it, such as Russians, Bulgarians etc – we actually use Latin as well. Cyrillic is the official one but Latin is also recognised and used. We learn both in school and we use both all the time. So we are not able to tell them apart, as we are accustomed, and cannot detect the issue of people not being able to read Cyrillic.
At the bank, post office…
If you stumble upon government, courthouse, post office or other entity run by the country itself, Cyrillic is the only official letter you will see. You will not be able to do anything there and prepare to ask for help. For example, if you get a parking ticket or public transport ticket, the only way to pay is through the post office (or a bank).
If you are in a post office, there's a huge chance that people working there will not know English so ask someone in line that's younger than 40. Better suggestion would be to go to the bank – even though you will pay a bit higher commission, clerks there usually know English and will be able to assist you.
Changes gonna come
After a while, when we found out that it's hard for visitors to read it, we have decided to do a "bilingual" signs, such as this one: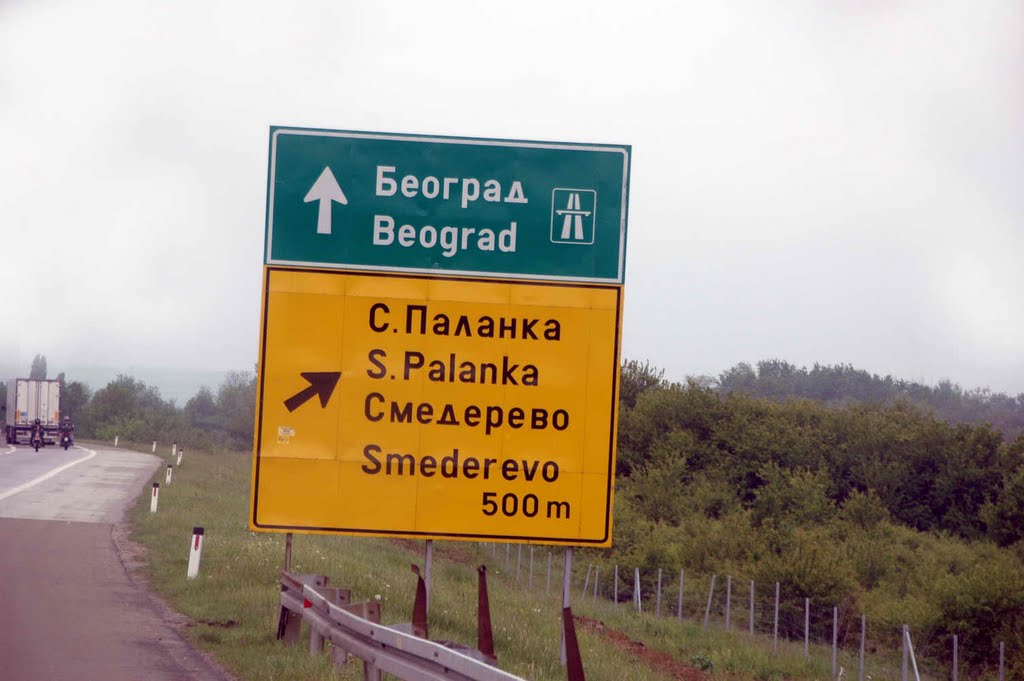 So you have both Cyrillic and Latin at the same sign. But this was just the case in the high way or the airport etc. Street signs remained in Cyrillic, parking zone signs as well … That also started to change but slowly.
So, you might run into a situation that you will get a map of Belgrade on Cyrillic but the signs will be on Latin or vice-versa, which might cause confusion. Luckily, modern times bring modern technology, so if you have a smartphone with Google, Here, Maps etc you will be able to see the street names written in both which will be easy to read.
The process of changing signs, especially in the city centre, started some time ago, so they look like this now: